The Pantanal
South American Wildlife Paradise
Group Leader – Roger Devore
August 05-15, 2017
8 Participants
Typical Workshop Schedule       What Is Included        Payment, Discounts, Cancellation, Refund Policies        What to Bring
Return to Schedule of Offerings    Return to Roger Devore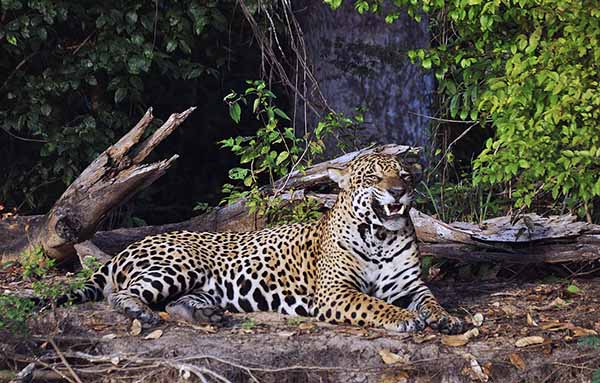 The Pantanal is rapidly becoming known as one of the world's top wildlife destinations!  This area has consistently provided the opportunity to photograph the elusive  jaguar.  All though nothing is ever guaranteed with wildlife, recent visitors to the Pantanal  have brought home jaguar images. The region still remains unspoiled and will not remain that way as it becomes better known. We use the same outfitter as many of the higher priced trips, so give us a try and visit this area while it is still fantastic for photography.
The Pantanal is an enormous wilderness located in the heart of South America encompassing the World's largest tropical seasonal flooded wetland. Although it is shared by Brazil, Bolivia and Paraguay, more than 75 % of the Pantanal floodplain is located in the Brazilian states of Mato Grosso do Sul, covering an area of more than 138,183 square kilometers.
Though the Amazon rainforest is well known worldwide due to its diversity, the Pantanal offers more number of visible species and individuals and is one of the most productive wildlife habitats on Earth in terms of photogenic wildlife! Iconic species such as spectacled caimans, capybaras, anacondas, ocelots, rheas, marsh deer, crab-eating raccoons, tapirs, peccaries, giant otters, jabirus, toucans, flocks of numerous species of parrots, parakeets, ibises, plus giant anteaters and jaguars, among many others, transform the Pantanal in a dream for any demanding wildlife photographer!
This trip has been planned for visiting this wildlife paradise in the best time of the year in terms of photography: in the dry season, when the mammals, reptiles and most bird species concentrate around the rivers, streams and other water sources, and the best time of the year for observing and photographing  the iconic jaguars!

Trip highlights
Explore the Pantanal wetlands in the best jaguar season!
The best accommodation available in the best ranches and lodges with excellent access to abundant and photogenic wildlife.
4 full days at the Cuiabá and Piquirí rivers in search of jaguars.
Comfortable boats with 2 seats per photographer!
Transportation in wide air-conditioned vans and minibuses
Excellent naturalist guides and wildlife trackers
Itinerary
Day 1: (August 05) CUIABÁ: Arrive at Cuiabá airport (Cuiabá is the capital of the state of Mato Grosso and one of the main gates for exploring the Pantanal wetlands). Numerous companies flight from Rio de Janeiro and Sao Paulo to Cuiabá: TAM, GOL, Varig, Azul, etc. Transfer from the airport to Hotel Tainá, close to the airport.
Day 2: (August 06) CUIABÁ –TRANSPANTANEIRA HIGHWAY – POUSO ALEGRE RANCH Drive southwards to Poconé and start driving along the Transpantaneira route, an elevated road of 167 km. that crosses the savannas, the Pantanal, dozens of rivers and reach Cuiabá River. The Transpantaneira is an excellent road for seeing and photographing the abundant wildlife of the region, as the ponds and pools at both sides of the road concentrate a surprising diversity of wildlife even during the dry season, such as caimans, capybaras, marsh deer, jabiru storks, roseate spoonbills and many species of kingfishers. Accommodation for 3 nights at Pouso Alegre Lodge. The lodge is located inside a big cattle ranch of the Pantanal, and will be our first base to explore the region. Nocturnal explorations in search of wildlife. (B, L,D)
Days 3 & 4 (August 07 & 08) PANTANAL : Full days exploring the savannahs, wetlands and forests. We will navigate Claro River for photographing spectacled caimans, white-lipped peccaries, red-collared hawks, Amazon kingfishers, wattled jacanas, and many other species. Spectacled and broad-nosed caimans, yellow anacondas, capybaras and marsh deer frequent the ponds and flooded areas, and the savannahs and forests are the habitat of the giant anteater, greater rheas, coatis and several troops of black-and golden howler monkeys. This ranch is probably the best location in this vast region for observing Brazilian tapirs, white-lipped peccaries and red brocket deer in day light, and offers prime Cerrado (savannahs) habitat for dozens of bird species, including chestnut-eared aracaris, monk parakeets, savanna hawks and the endangered hyacinth macaw, as very close to the lodge nest two pairs of this special bird, the biggest "parrots" on Earth (B,L,D)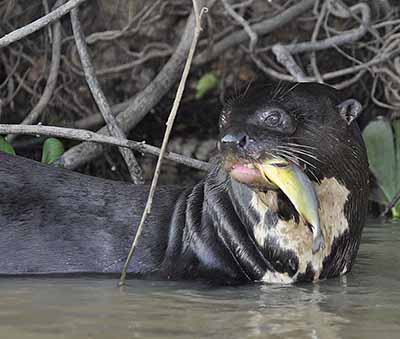 Day 5: (August 09) POUSO ALEGRE RANCH – SANTA TEREZA RANCH
Continue driving southwards up to the end of the Transpantaneira, with stops in route for adding new species of wildlife and arrive at Santa Tereza Ranch, where we will stay for the next 2 days. The ranch has been doing a very good job protecting the local ecosystems and avoiding poaching, and that's why the wildlife is so abundant and tame. The area offers photogenic and habituated groups of giant river otters (an extremely endangered species), nesting jabiru storks (accessible from observation towers close to the nests), marsh deer, capybaras and abundant birdlife. Accommodation in Fazenda Santa Tereza for 2 nights (B.L.D)
Day 6: PANTANAL: FAZENDA SANTA TEREZA (August 10): Another day to photograph the Pantanal wildlife in this ranch: marsh deer, Brazilian tapirs and groups of capuchin monkeys, as well as active black-collared hawks great black hawks that fish piranhas can be seen and photographed close to the lodge. The number of birds around the house is amazing: colorful tanagers, wattled jacanas, turquoise-fronted parrots, tropical-screech owls, squirrel cuckoos and roseate spoonbills, among hundreds of species can be seen and photographed. Since 2007 the sightings of jaguars were more frequent due to the abundance of preys around the ranch. Navigation along Pixaim River will give us chances to photograph the Pantanal's wildlife (B,L,D).
Day 7: (August 11) SANTA TEREZA – PORTO JOFRE
Departure after breakfast along the Transpantaneira and after a 2 hour drive we will arrive to the Cuiabá River and our accommodation for the next 4 nights: a special and comfortable lodge located by the river, with wide cottages and rooms facing the river, swimming-pool and excellent restaurant in the heart of a rich wildlife region. This territory around Porto Jofre is one of the best regions for observing jaguars, as due to the protection at the large and nearby Encontro das Aguas State Park, and the big abundance of preys along the river banks, such as caimans, capybaras, tapirs, yellow anacondas and storks, and the fact of that the area has been frequented by sport fishermen y park rangers for more than two decades, these felines were habituated to see people along the rivers and now they are very tame and not afraid of humans. After lunch we will photograph the wildlife at a small lake covered with Victoria regias and visit an area where we will see nesting hyacinth macaws, and at 3.00 PM we will take our first boat trip in search of jaguars, returning after sunset. (B,L,D)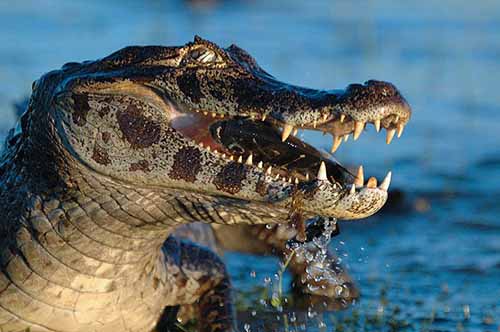 Days 8, 9 & 10 (August 12, 13 & 14) : CUIABÁ RIVER and ENCONTRO DAS AGUAS STATE PARK: Every day we will navigate Cuiabá River and its tributaries at Parque Estadual Encontro das Aguas (Meeting of the Waters State Park), where jaguars use to hunt spectacled caimans, capybaras, tapirs, anacondas and other preys along the riverbanks during the dry season (from June up to November). The Pantanal jaguar subspecies is the largest one in the Americas, and its population has been growing in the region due to the protection.
We will depart in motorboats very early in the morning and also after 3:30 PM in search of these spectacular felines that usually can be seen hunting without being afraid of photographers, but we will also focus in other wildlife such as Brazilian tapirs, capybaras (the World's Largent rodents), brad-nosed and spectacled caimans, Chaco chachalacas, giant river otters, collared peccaries, anhingas, giant sloths, howler monkeys, ospreys, black-collared hawks and red-breasted toucans, among many other species.
We will also explore Negrinho River, one of the best areas for bird photography.(B,L,D)
Day 11: (August 15) PORTO JOFRE – CUIABA: Last morning in Porto Jofre. Drive back to Cuiabá, with stops along the Transpantaneira for shooting wildlife. The tour ends at the Cuiabá Airport, where we will board our departure flights. (B,BL)
C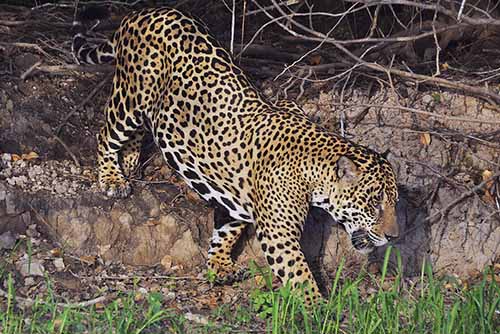 Cost $4350 for double occupancy, Single Supplement  $825.  Minimum for the trip to operate – 4, maximum 8. $1000 deposit required at registration, balance due May 01, 2017.
The cost includes:
Accommodation based in double room at the ranches and lodges mentioned in the program
Private transfers and transportation in vans or minibuses, with 2 seats per photographer (14-seat van for 4 & 5 people, and minibus for 6 and more people).
Private boat trips for the group
All meals included
Local English-speaking guides
Not included:
Air tickets
Airport taxes
Tips
Extras
Outfitter Cancellation Policy:
 Prior to 60 days before trip – $125 loss from deposit.
60-30 days in advance the passenger losses the entire deposit paid.
30-15 days in advance 50%.
Within a 15 day period prior to the trip 100%.
Return to Schedule of Offerings        Go to Top of Page