Binito – South of the Pantanal 
Tropical Savannahs of Southern Brazil
Group Leader – Roger Devore
August 05-10, 2018
8 Participants
Typical Workshop Schedule       What Is Included        Payment, Discounts, Cancellation, Refund Policies        What to Bring
Return to Schedule of Offerings    Return to Roger Devore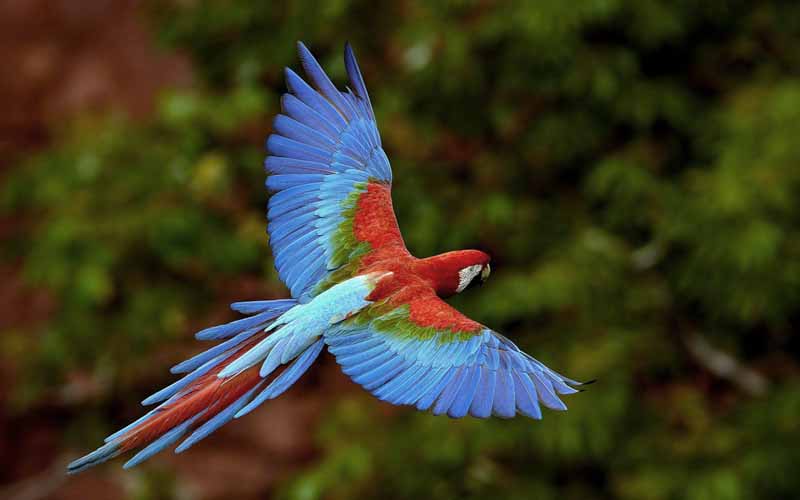 The Pantanal is rapidly becoming known as one of the world's top wildlife destinations!  This area is located just to the south of the Pantanal and offers even more of the photographic magic of Brazil. We hope that you will consider this trip as a supplement to our other Pantanal trip and we will discount for those that choose both trips.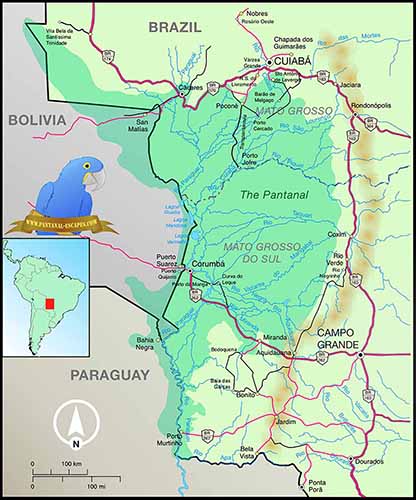 The Pantanal area  is an enormous wilderness (10 times the size of the Everglades) located in the heart of South America encompassing the World's largest tropical seasonal flooded wetland. Although it is shared by Brazil, Bolivia and Paraguay, more than 75 % of the Pantanal floodplain is located in the Brazilian states of Mato Grosso & Mato Grosso do Sul, covering an area of more than 138,183 square kilometers.
Though the Amazon rainforest is well known worldwide due to its diversity, the Pantanal area offers more photo opportunites of visible species and individuals and is one of the most productive wildlife habitats on Earth.
                                  Highlights of the tour
 The best location in Brazil for photographing some of South America's most iconic tropical wildlife: giant anteaters, maned wolves, red-and-green macaws, hairy armadillos, toucans, burrowing owls, broad-nosed caimans, capuchin monkeys, white-lipped peccaries, bare-faced curassows and more!


 The most accessible and diverse habitat south of the Pantanal for photographing a wide diversity of sceneries, such as savannahs, palm groves, waterfalls, crystalline rivers and a stunning cave with a blue lake inside!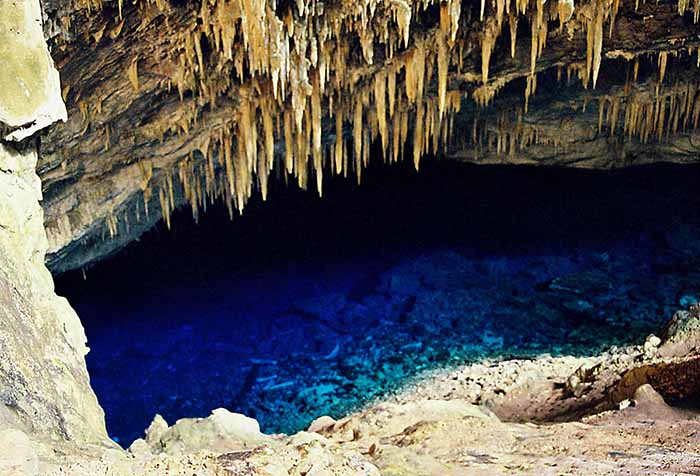  Photograph colorful flocks of red-and-green macaws from above during their aerial acrobatics.
 Capture images of some of the mostcolorful freshwater fish by snorkeling in the most clean and pure rivers and streams of Brazil.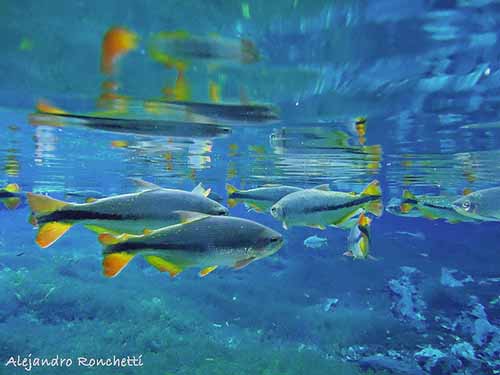 Itinerary
Day 1:– CAMPO GRANDE: Arrive to Campo Grande (the gate to Bonito and southern Pantanal). Reception at Campo Grande Airport. Accommodation at Hotel Brumado x 1 night.
Day 2: CAMPO GRANDE – BONITO:
Drive to Bonito, located at 260 km from Campo Grande (almost 4 hour drive), in the transitional area between Brazilian savannahs and the Chaco woods, in an area surrounded by dozens of springs and rivers of incredible clear water with abundant and diverse wildlife. Arrive to our accommodation, Cabanas Lodge, surrounded by native vegetation and inhabited by troops of brown capuchin monkeys, bare-faced curassows, Chaco chachalacas, tegu lizards, Azara's agoutis and many other species. Lunch in Bonito. Afternoon explore the savannahs and semi rural areas looking for giant anteaters (the region of Bonito concentrates the biggest population of anteaters), coatis, broad-nosed caimans, crimson-crested woodpeckers, burrowing owls and other interesting species (B, L, D)

Day 3: THE MACAW'S SINKHOLE (Buraco das Araras)
Full day visit to the Buraco das Araras (In Portuguese "Macaw's Hole"), an enormous sinkhole where an important and growing population of red-and-green macaws nest every year. These colorful birds are habituated to visitors and are easy to photograph at close range flying, perched, flying,and in the nests. The most active hours are between 08:00 AM and 11:00 AM and from 3:30 PM up to sunset. In the area there are also seen hairy armadillos, coatis, toco toucans, red-legged seriemas, surucua trogons, peach-fronted parrots and ferruginous pygmy owls, among many other species. Lunch in a nearby cattle ranch. (B, L,D)
Day 4: BONITO'S SAVANNAHS
After an early breakfast and wildlife photography around our rooms, visit the Groute of the Blue Lake, a cave with enormous stalagtythes and a spectacular blue lake inside (the color of the water under the natural morning light is amazing). Also visit the Municipal Balnearium, where we can photograph habituated white-lipped peccaries, jacamars, capuchin monkeys and other species.
In the afternoon we will explore again the Cerrado (savannahs) looking for giant anteaters and other interesting species. Accommodation for 2 nights at the Pousada Olho D'agua, much closer to town and also a good location for photographing rich birdlife.
Day 5: FORMOSO and PRATA RIVERS
Visit a group of picturesque waterfalls surrounded by gallery forests, and drive to Formoso River for floating in zodiac along its waters; so clear that you can see the details of the white sand and semi-precious stones at its bottom. The river is flanked by gallery forests, and you can scuba dive in its clear waters (We will supply snorkeling equipment) and you can photograph the schools of golden dorado, piraputangas and other colorful tropical fish at a veryclose range. You will understand why these waters are considered among the most pure and crystalline ones in South America!A unique opportunity! (B,L,D)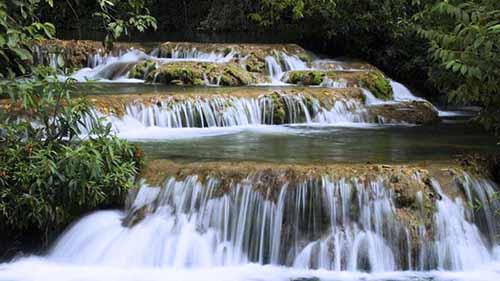 Day 6: BONITO – CAMPO GRANDE
After a relaxed morning in Bonito, drive to Campo Grande Airport to board your departure flights. (B)
Cost
$3435 for double occupancy, Single Supplement  $536.  Minimum for the trip to operate – 4, maximum 8. $750 deposit required at registration, balance due May 01, 2018.  $500 discount if registered for both this workshop and our Pantanal trip. http://natureworkshops.com/1726-2/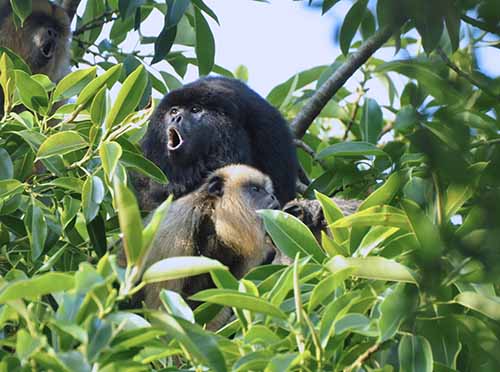 The cost includes:
Accommodation based in double room at the ranches and lodges mentioned in the program
Private transfers and transportation in vans or minibuses, with 2 seats per photographer (14-seat van for 4 & 5 people, and minibus for 6 and more people).
Entrance fees to protected areas.
All meals included
Local English-speaking guides
Not included:
      .    Air tickets
           Airport taxes
           Tips
          Personal Expenses.