Everglades After Dark
Group Leader – Robert Chaplin
August 10-14, 2018
8 Participants
Typical Workshop Schedule     Fees and What Is Included     Payment, Discounts, Cancellation, Refund Policies     What to Bring Return to Schedule of Offerings     Return to Robert Chaplin's Bio Page
All photos by Robert Chaplin.
As a life long Florida resident, Robert's vast experience in the Everglades offers a unique experience not available elsewhere. He has been leading workshops in the Everglades for years and often spent a  portion photographing at night. Due to an ever increasing interest in night photography, he has decided to schedule a workshop totally dedicated to the photo opportunities in the Everglades at night.
Experience the Everglades after dark and learn how to photograph night landscapes and the night sky.Spend 4 nights learning the techniques for photographing night landscapes, static stars, star trails, the Milky Way, the moon, and meteors.
Arrive on Aug 10. We will shoot the nights of Aug 10, 11, 12, 13. Check out Aug 14..Additional hotels dates can be coordinated before and after the trip for additional rest and acclimation for the workshop.

Recommended Camera Equipment:
Fast Lenses – f/2.8 or faster.
Wide angle lens – fixed focal length or zoom.
Long lens (f/5.6 or faster) – for moon photography.
Sturdy tripod.
Cable release.
Optional Equipment:
.What you will learn:
How to plan your shot.
Optimal camera settings for your equipment.
How to focus at night.
How to shoot star trails.
How to shoot static stars.
How to shoot the Milky Way
How to shoot a meteor shower.
How to shoot the moon and get a perfect exposure every time.
Photoshop demonstration and overview for processing images created at night.
How to use a light at night when shooting with a group.
Join Robert in the Everglades and take your photography to new heights.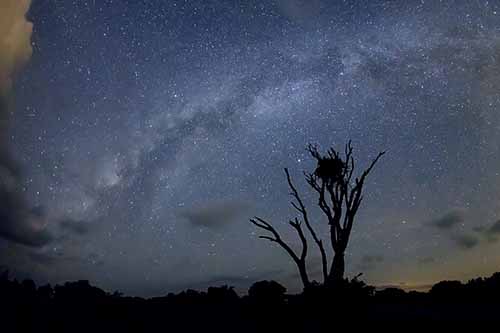 Fees: $995 (van transportation while at the workshop – limited to first three requests – can be added for an additional $125, and pickup at the airport on Aug 10 at 4 p.m. and drop off at the airport on Aug 14 by 1 p.m. can be added for an additional $75). We will coordinate the sharing of rental cars if requested, for those not riding with us. Estimated lodging: $55 double occupancy, $110 single Airport for pickup: Miami, FL Hiking Rating – Easy Minimum number of participants – 1; maximum participants – 8.