South Florida Summer Skies & Lightning
Group Leader – Robert Chaplin
July 19-23, 2018
4 Participants
Typical Workshop Schedule     Fees and What Is Included     Payment, Discounts, Cancellation, Refund Policies     What to Bring Return to Schedule of Offerings        Return to Robert Chaplin's Bio Page
All Photos by Robert Chaplin.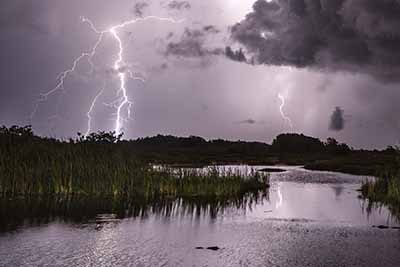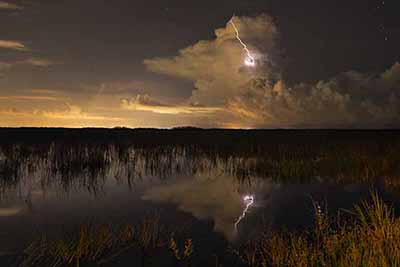 Summer time in South Florida is the best time to photograph dramatic skies. We will photograph sunrises, sunsets, landscapes, seascapes, and lightning when available. We will walk into the swamp to photograph the flora that you will not see from the road. A Lightning Bug sensor by MK Controls  will be given to all participants. These are devices that connect to your camera and fire the shutter when they sense lightning occurring.
South Florida is rich in other photo targets. Here are some ideas of other subjects we will pursue: Landscapes, Alligators, Sunrises, Sunsets, Birds, Florida Tree Snail (Endangered Species), Upper Keys shore lines and seascapes, Water Spouts (if associated with storms), & Rainbows
Loaner Equipment Provided For the workshop: Therma Cell Mosquito control Bug Tamer Bug Suit Flashlight Fanny Pack to carry above equipment
Other Notes: This workshop is scheduled  so we can take advantage of South Florida's summertime storm patterns. While every attempt will be made to place the client in the best location for lightning, we are still at the mercy of Mother Nature. Lightning can be very dangerous. We will all be together in one vehicle and operate safely outside the edge of the storms, and not in the middle of the storms.
Fees: $1450 (includes transportation during the workshop and airport pick up( arrive July 18)/ drop off (depart afternoon on July 23) please see airport transportation guidelines). The $1450 includes a MK Controls Lightning Bug sensor. for each participant to keep. Attendee can deduct $179 if they have a lightning sensor. Lodging and meals are not included in workshop price. Custom workshops also available. Estimated lodging: $55 double occupancy, $110 single plus tax. Airport for pickup: Miami.  Hiking Rating – Easy. Minimum partciapnts -1, Maximim -4.