Lake Clark NP, AK
Bears, Bears, Bears!
Group Leader – Roger Devore
July 01-05, 2017
6 Participants
Typical Workshop Schedule     Fees and What Is Included     Payment, Discounts, Cancellation, Refund Policies     What to Bring
Return to Schedule of Offerings     Return to Roger Devore's Bio Page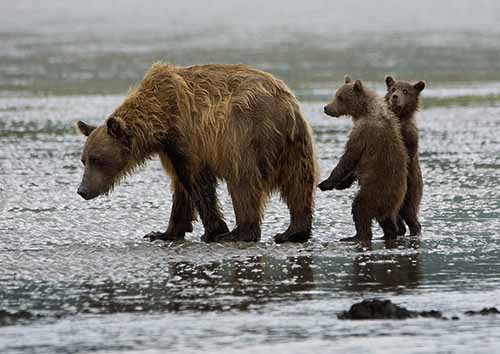 If you are looking for an opportunity to photograph brown bears as your primary goal, this is the workshop for you. We will be at a location in Lake Clark National Park, where, we will see large numbers of coastal brown (grizzlies) bears each day! This area is considered one of the best bear viewing areas in Alaska. We will watch these amazing animals in their natural habitat, eating grasses, , clams, and tending to their cubs. For 2017, I have choses dates earlier in the season to take advantage of first year cubs while they are very small. I have photographed bears in many locations and Lake Clark is by far the best place I have been for bear photo opportunities. There are also many other species in the area, including black bear, moose, eagles, swans, puffins, and a large variety of other wildlife.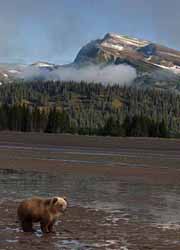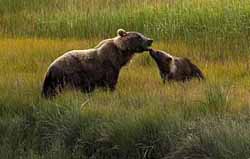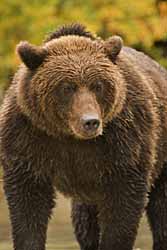 Lake Clark National Park
Lake Clark National Park was established in 1980 and is located in southwestern Alaska. The park, southwest of Anchorage, has been described as the essence of Alaska. It is the junction of three mountain ranges: the Alaska Range from the North, the Aleutian Range from the South, and the park's own rugged Chigmit Range, with two active volcanoes, a coast with rain forests on the east, a plateau with tundra on the west, and turquoise lakes. No roads lead to the park and it is only accessible by small aircraft. The park is one of the least visited national parks, averaging just over 5000 visitors per year. We will be photographing areas only a few people see.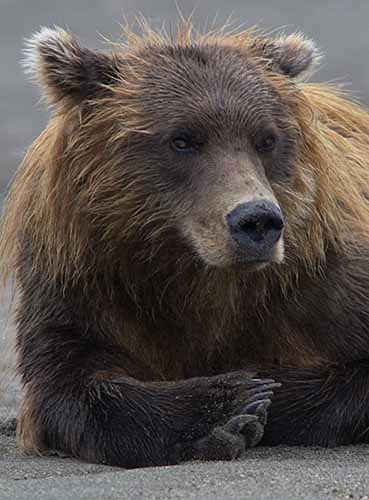 Silver Salmon Creek Lodge (SSCL)
Our home for this remote Alaskan adventure will be Silver Salmon Creek Lodge (http://www.silversalmoncreek.com/) in Lake Clark National Park, located on the western shores of Cook's Inlet. The lodge provides some of the greatest scenery that Alaska has to offer and the landscape, wildlife and outdoor opportunities combine to offer visitors a true sense of Alaskan wilderness, with towering volcanic mountains forming an immediate backdrop to the tidal marshes, streams and pristine salt-water bays which comprise the coastline. The remoteness of the area offers a scenic photographer's dream. Because of their unique relationship with the bears, Silver Salmon Creek Lodge has become famous for their access to the brown bears and for hosting photography workshops.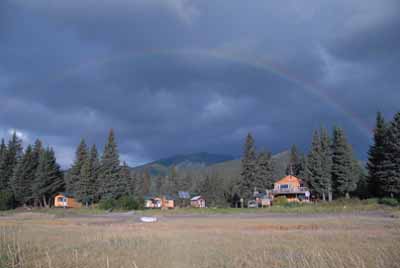 Only a short flight by small plane from Anchorage, Silver Salmon Creek Lodge is a unique Alaskan vacation destination. Their modern facility, complete with a generator system, sauna, showers and freezers include double occupancy rooms in the main lodge, and the newly renovated Iliamna House "annex lodge". They are also set up for photo workshops, with digital projector, screen, and flat screen TV.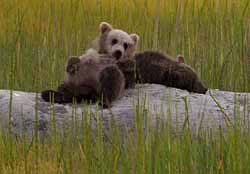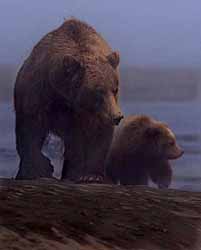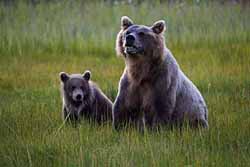 Puffins
Unlike other Lake Clark locations, SSCL also has access to a tufted and horned puffin rookery. We will schedule a day to visit the puffin island and photograph these birds while they are nesting and raising their young. These colorful birds are a photographer's favorite making outstanding images to add to your collection.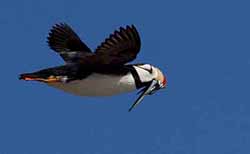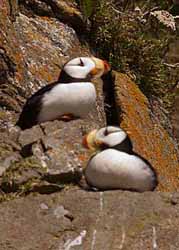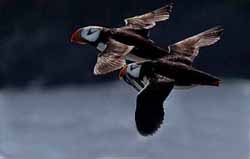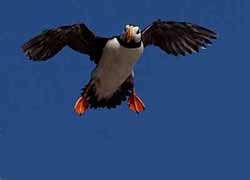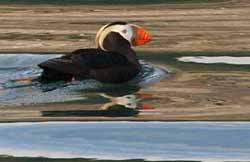 Many other activities are also available at the lodge, if you want a break from photography. Fishing is probably the reason the most people visit the area. We will be there for prime fishing and the lodge will provide all the gear you need if you want to try your luck. The lodge also offers hiking, kayaking, and canoeing. There will be plenty of opportunities both with and without our cameras.
Once you get to Anchorage, most everything else is provided in the workshop price:
Room, all meals, professional guides, hiking, fishing, and all lodge facilities, round trip air flight from Anchorage.
We have arranged for a 4 night trip. We will fly back to Anchorage and there you can spend the night and then fly home the next day or pursue other Alaskan adventures.
You will need to arrive in Anchorage on NLT June 30 to fly to the lodge on July 01.
We will fly back to Anchorage on July 05, arriving usually around noon (can depend on weather).
Cost – $4050 (5 days/4 nights)
$1000 deposit at registration and balance due April 01, 2017.
Cancellation policy (per our outfitter) 50% of deposit penalty if made 60 days in advance. Within 60 days, no refund. As with all our workshops, we recommend trip insurance to protect you from unforeseen travel problems.
Unbooked space must be released back to lodge in March, 2016. Please register early. After March, accommodations will be available only on a space available basis with the lodge.