Links to Helpful Sites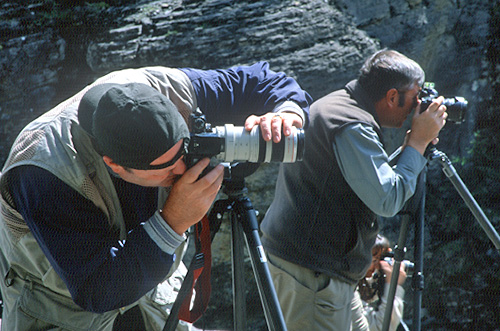 Links to National Organizations
www.asmp.com – American Society of Media Photographers.
www.audubon.org – Home site of the National Audubon Society.
www.nanpa.org – Home for the North America Nature Photography web site.
www.nps.gov/index.html – The official U.S. National Parks service site.
www.nwf.org – Official site of the National Wildlife Federation.
www.pdia.org/Default.asp – Professional Digital Imaging Association.
www.photoshopuser.com/ – National Association of Photoshop Professionals.
www.ppa.com – Professional Photographers of America.
www.travelalaska.com – Official state guide to Alaska.
www.tsa.gov/public/ – Transportation Security Administration.
www.customs.ustreas.gov/xp/cgov/home.xml – U.S. Customs.
www.wildflower.org/ – Home site for the National Wildflower research Center, committed to the preservation and reestablishment of native North American wildflowers.
Contest Links
http://www.nhm.ac.uk/wildphoto/ – BG Wildlife Photographer of the Year.  This is a prestigious contest with several categories and winners, handled by the Natural History Museum in London.
http://www.naturesbestmagazine.com/index.php?nav=awards&subnav=entry_guidelines – Nature's Best Magazine annual photo contest rules.
http://www.shutterbug.com/photocontests/ – Shutterbug magazine's ongoing listing of photo contests.
www.xensei.com/users/adl/ – A monthly email newsletter listing art contests & competitions, art scholarships & grants, juried exhibitions, art jobs & internships, call for entries/proposals/papers, writing & photo contests, residencies, design & architecture competitions, auditions, casting calls, fellowships, festivals, funding, and other opportunities (including some that take place on the web) for artists, art educators and art students of all ages.
Other Helpful Links
www.dpreview.com/ – DP Review for the latest in digital photography and imaging news.
www.f8andbeingthere.com – F8 and Being There magazine's web site, for articles, ads, instruction and all around good advice.

www.katymoffatt.com – Find some great music to listen to while doing scans, printing, etc.
www.microsoft.com/windowsxp/using/digitalphotography/prophoto/default.mspx – Microsoft's site for Professional Photography with Windows XP.
www.weightvest.com – This site has weight vests that are excellent to use for training for carrying your photography backpack in the field.  This will get you in shape faster than anything else we have come across.
www.silveroxide.com – Black and white filters for converting color images to black and white.