List of Recommended Items to Bring to Workshops
Go to Schedule of Offerings        Use your browser's back button to return to the page you just left.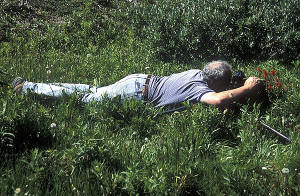 1. Digital Capture – The many available methods of archiving digital images during the capture process, and later as a download in the field, makes it virtually impossible to designate what to bring. We would, recommend that plenty of data cards since you always need more than you think you will. This is extremely true when photographing wildlife. Stand alone external hard drives or a laptop computer with external hard drives are very useful for downloading images at night. We believe in two copies of images before reusing cards.
2. Camera gear, including a good sturdy tripod (Bogen/Manfrotto/Gitzo would generally be the best answers), your camera manual (please read the manual and be very familiar with how your camera works prior to attending so we can concentrate on techniques needed to make better images, and please always keep you camera manual with you in your camera bag while at the workshop), extra camera batteries, cable release, circular polarizer can be useful to help with constrast, split neutral density filter (you can purchase Cokin split gray #120 and/or #121 – if buying only one, buy the #120 – in the "P" size for about $20 each and they will drastically improve your sunrise and sunset images). You will not need the mounting equipment that stores will try to sell you to go with the Cokin filters. If you prefer top of the line, Singh Ray makes 2 stop and 3 stop split neutral density filters selling for about $100 each. B&H Photo has both available. If buying the Singh Ray filters, we would recommend the 2 stop soft first, the 3 stop hard next, the 2 stop hard next and the 3 stop soft next, in that order, for however many you decide to purchase. As an alternative to the split neutral density option. We also recommend HDR techniques as a replacement. You would shoot a broad exposure bracket of images and they would be combined by software. Some newer camera models are offering this procedure in camera.3. Large water bottle that can be refilled (if your workshop is at higher elevations than where you live, you should start drinking lots of water prior to arrival to help acclimate yourself).
4. Hiking boots/shoes (an extra pair of hiking boots or comfortable walking shoes is probably a good idea in case your primary pair gets wet).
5. Flashlight, alarm clock (wake-up calls will not always be available and are not always reliable).
6. Sunscreen, bug juice, cap, rain gear, gloves (see additional comments regarding weather below).
7. Something to protect your camera if it rains (small trash bags or shower caps generally work).
8. Although we will eat plenty, our focus will be making images at all times of the day, not on eating. If you normally need food at specific times of the day, be prepared to bring something with you during the day to get you by (i.e., snack bars, or whatever else you may need). We will often be shooting from sunrise through sunset, and we may be diverted from our itinerary because an unexpected weather condition or an animal offers an image-making opportunity that takes precedent. We will generally plan at least two group meal opportunities per day, but times will vary depending on time of year and time of sunset/sunrise.
9. 20 of your favorite images for critique (preferably digital – they are easier for everyone to view – but bring prints if you don't have a disk – the specs for the digital images will be sent to everyone at a later date and posted on the web site). This can be an important part of the learning experience and everyone attending should bring the images for critique.
10. If you workshop is anyplace out of the country, including Mexico or Canada, a passport will be required at the border. It is best to apply early – the passport process might take a while.
11. An open mind. This may be the most important item. Remember — you are coming to learn.
If you are riding with us, PLEASE PACK LIGHTLY (you will only be there for 4-5 days) and USE ONLY SOFT-SIDED DUFFELS, trying to be prepared for any kind of weather (it can rain nearly anyplace at any time and it may be considerably cooler than you might expect, especially early or late). The size of your luggage is important, especially if we will be traveling as a group during the workshop or you have requested the airport service – there is only a minimum amount of room in the vans for luggage and camera gear, and large pieces of luggage may have to be checked at a motel or the airport. The best answer is to bring small, soft duffels, not over 30″ long (that should be adequate to fit most tripods into the duffel if needed). If you have to pack your tripod, taking the head off will make it easier to pack.
We will also always send out a final details email just prior to each trip specifying additional location unique suggestions.