Southeast Alaska – Whales, Bears and Glaciers
Juneau to Ketchikan
August 29-September 07, 2018
Trip Leader – Roger Devore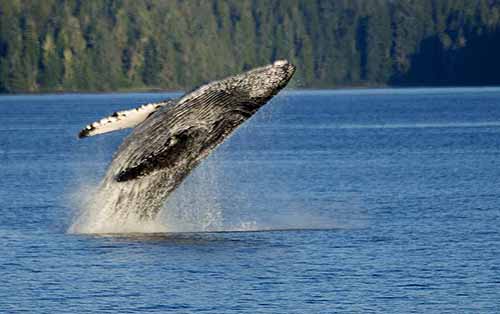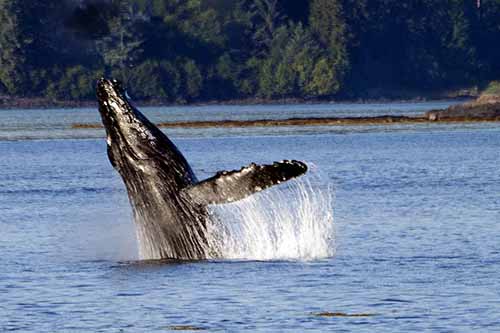 This trip explores the wonder that is Southeast Alaska. Unsurpassed scenery and wildlife will be the highlights. We will visit two bear preserves, prime waters for humpback whales, the Ice Kingdom with its glaciers and icebergs, and many other wildlife encounters like Orcas, Dall porpoise, otters, sea lions, bald eagles, and many, many more. We will start in Juneau and end in Ketchikan ten days later, exploring a large portion of the wilderness of Southeast Alaska.
This trip is run in conjunction with Dolphin Charters (http://www.dolphincharters.com/) and will operate aboard their boat Delphinus. It holds 8 passengers plus crew and provides an intimate experience that only a small boat can offer. The Nature Workshops has traveled many times with Captain Ronn & Delphinus and each trip is unique in what is seen, but each consistently offers spectacular wildlife and landscape opportunities not available with other transportation methods.
Voyage Highlights 
A special feature of this wildlife experience is visiting two outstanding bear reserves—both Anan Creek, with its photo-blind platform and either or black and brown bears, and Pack Creek, the best-known place in Southeast for being with grizzly bears or "brownies." Pack Creek is located at the old homestead location of Stan Price where he lived and coexisted with the bears, becoming a leading a brown bear expert. After his the death, the location became a bear preserve to protect the bears that he loved so much during his life.  During good year  salmon runs, Anan Creek is one of the best photo locatios in Alaska. Black bears feed on salmon on a series of falls with two different viewing platforms for visitors. Brown bears also exist in the area and we saw a brown bear with four cubs on a recent visit. It is unusual for these two species to live together in one area. Eagles are also very plentiful around the creek.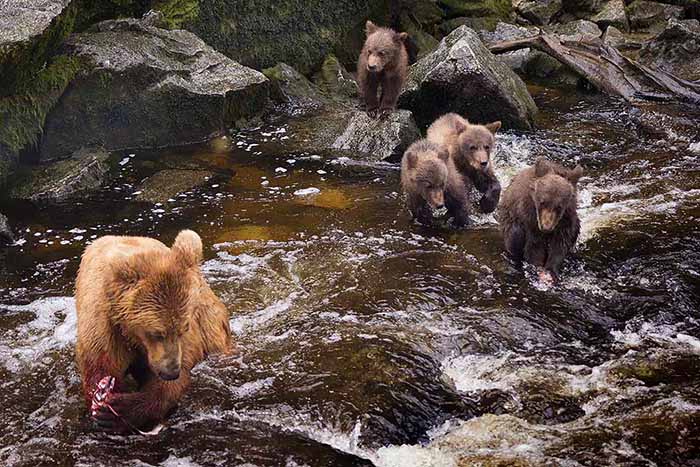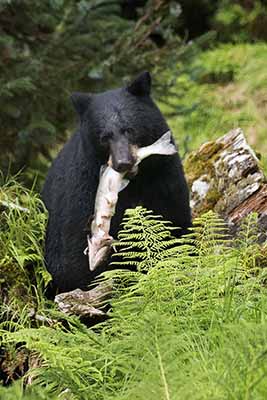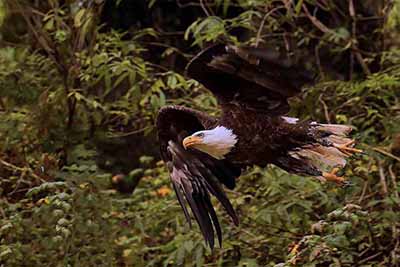 Another important focus of this voyage is the incredible breaching, resting, lunging and bubble-net feeding humpback whales. In this area during the summer, there are an estimated 300 individually identified humpbacks, at one time, all actively feeding! As many as 800 have been photo identified using this area. Many bubble-net feed, together they swim in a circle, blowing a helix of bubbles underwater that rises to the surface as a wall, surrounding and entrapping the prey. At the surface it appears as a continuing ring of bubbles. The humpbacks are indicating exactly where they will appear next—right in the center of the circle—sometimes in an explosive leap!
It is both easy and exciting just to be around these whales, hour after hour, as they alternately feed and rest. We can listen to and record their summer vocalizations and their trumpeting.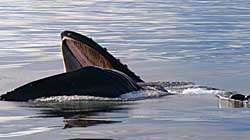 Orcas also regularly visit Frederick Sound. It is a part of the territory of the resident "J-pod of the North." They are as playful, shore-loving, friendly, curious and as easy to be with as the J-pod of Puget Sound. Frederick Sound is also used frequently by transient orcas. These we have seen many times going after various mammals—often close to the boat!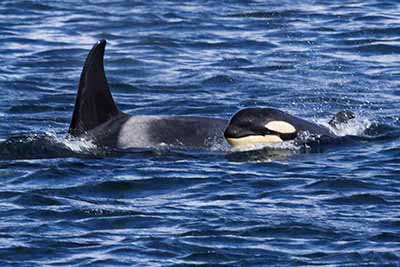 Dall's porpoise and harbor porpoise are also resident. The former like to bow-ride and rooster tail—zip through the water so fast that they send up a spray of water like a rooster tail! Sea lions and harbor seals are resident too, and both have rookeries on several islands. Steller sea lions also haul out by the hundreds. These huge marine mammals are larger than grizzlies. They growl, rather than bark. We often anchor one night beside one of their rookeries where you can listen to them throughout the night.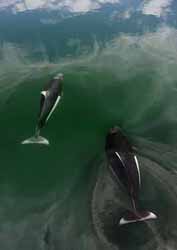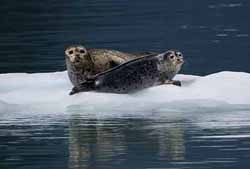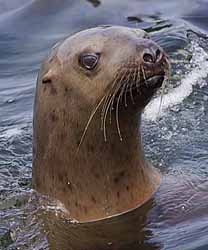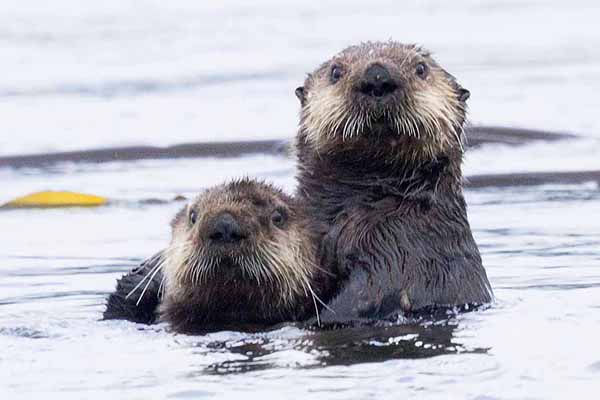 A continuous highlight of the cruise is the grandeur of scenery of the Inside Passage from Juneau to Ketchikan. that is equal to the natural history spectacle provided by the animals. The Ice Kingdom and calving glaciers of Endicott or Tracy Arm provide some of the most dramatic scenery in Southeast Alaska. Fords Terror, another possibility for our cruise, is beyond description—it lies outside the realm of the imagination! Everywhere there are snow-clad mountains cloaked in the intense green of old-growth forests. You will not only view these ancient forests, but you'll go ashore to explore the intimate life of their giant trees, mossy glades, berry patches, and babbling brooks.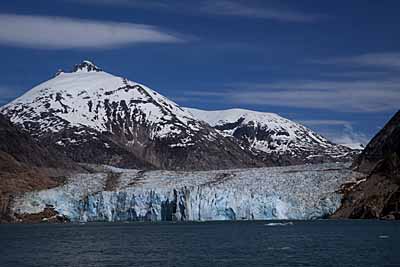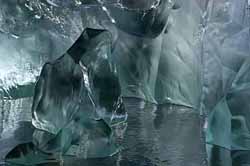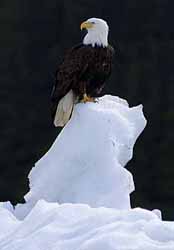 Some of the areas you will explore are salmon streams, forest edges, meadows, flower "gardens", river flats, and muskegs—a mosaic of the habitats of Southeast—in addition to these ancient old growth forests. You will be following animal trails. In some cases you will literally be stepping in "grandfather's" footsteps—the deep impressions made by brown bears walking in their same footsteps for years on end.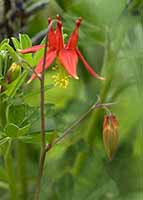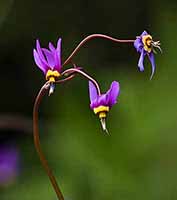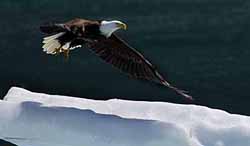 Admiralty Island has the greatest concentrations of nesting bald eagles and breeding brown bears of any similar-sized area in Alaska—or the world! There are more nesting bald eagles on this one island than in all the rest of the 49 states. It is reported that there is one grizzly per square mile. This would indeed be the greatest concentration of brown bears anywhere in the world.
To the west are the high snow-capped mountains of Baranof Island. To the east are the ice-covered peaks and moving glaciers of the mainland. As we cruise and follow the whales about, this pageantry of splendor continues to unfold. There is always a new light—foggy, sunny, misty, sunny again; broken clouds, scattered clouds, overcast, clear; sunrises and sunsets that go on for hours—providing outstanding photo opportunities. The scenery is always changing and is great for dramatic photography!
Each evening brings another new wilderness anchorage and another possible shore excursion. Each day, you can go ashore and explore a new place, take photographs or just sit awhile and contemplate. The days are very full, and life in Southeast Alaska is very rich. You will be in the very heart and spirit of this region. Traveling by boat, you are always where you want to be—somewhere in the vast wilderness area surrounded by gorgeous scenery. A further advantage is that everything, including your luggage, travels with you.
Itinerary
The itinerary is kept flexible so that we can take advantage of opportunities that present themselves and emphasize the things and activities that most interest you. Our goal each day is to put you in the place or places to maximize your opportunities to enjoy Alaska's magic. The following description includes some logistical information and the rest is meant only as a general guide.
Day 0 Potential extra day(s) in Juneau
Day 1 August 29 – Departure, 9A Juneau to Tea Cup Bay anchorage at Holcomb Bay, whale watching!
Day 2,3 August 30,31 – Ice Kingdom. Tracy Arm or Endicott Arm. Thirty miles of ice sculptures—a garden of icebergs and bergy bits—broken off pieces of tidewater glaciers. Some bergy bits are as big as a house, with seven-tenths still below the surface. If we choose Endicott Arm we can visit Fords Terror, a hidden arm of granite carved splendor and, at low tide, grounded icebergs.
Day 3,4 September 01, 02 – Seymour Canal Windfall Harbor /Pack Creek. Seymour Canal is an extension of Frederick Sound, an inland sea inside Admiralty Island. Pack Creek is the famous grizzly bear reserve. Forest walks and bear observation.
Days 5 , September 03 – Frederick Sound. We will continue spending time finding and observing feeding humpback whales and other marine mammals including Steller sea lion rookeries and harbor seals. Dall's porpoise are common bow riders, and orcas may be anywhere along the trip. Forest walks along a babbling brook, viewing seabirds, and more. The Brothers Islands, with its old growth forests is one favorite stop. It seems like a perfect habitat for elves and fairies. If the tides are right, you can delve into the mysteries of tide pools.
Day 7 September 04 – Continue to and through the Wrangell Narrows and past (or maybe into) Petersburg, Anan Creek/Bay for the night5
Day 8 September 05 -Anan Creek is a black and brown bear and old-growth forest reserve. This is a hiking and photo opportunity. The boardwalk hike is quite special and equal to the bear photo opportunities, and frequently there are numerous eagles hanging around. Wilderness anchorage for the night.
Day 9  September 06 – Heading for Ketchikan we have a good chance for orcas and whales and possibly a visit to the native village of Kasaan.
Day 10 Sept 7 Depart Delphinus after breakfast. If time allows, you should spend time exploring the "frontier" town of Ketchikan. Creek Street is worth a visit!
Digital Photography/Photography
This cruise is ideal for digital photography. Using Delphinus as your "wilderness lodge" and transportation all in one, you never have anywhere to go but where you are and you are always where you want to be—in wildlife-rich wilderness splendor. This means you can take pictures all day and, whenever you get a break, sit down with your laptop and edit your images.
Crew
The best part of our itinerary is you, doing what you want to do. The second best part is your naturalist and crew. The naturalist plays a central part in all our cruises by enhancing your understanding, deepening your experiences, and heighten your own sense of discovery. Your professional chef is there to similarly thrill you with sustenance, excite you with flavors, and stimulate you with visions of delight. They can also customize the menu to satisfy your individual needs or requirements. Your professional skipper is there to make it all happen in the safest, most enjoyable, and entertaining way possible. His more than thirty years of experience provides the hidden background of the cruise – allowing you to safely be in the place of maximum opportunity to see and do the things you have dreamed of. Now you are doing them – now you are living your dream. And he loves showing this area to others.
Cost for this trip is $4995. Single Supplement is an additional $2350 for your own cabin. $750 deposit is required at registration and the balance is due May 01, 2018. The price is all inclusive after arriving on board in Juneau, room and all meals included while on board. Rooms and meals in Juneau & Wrangell are not included. Dolphin Charters always has a fantastic chef on board to prepare gourmet meals not found in any other wilderness setting.  Airports are Juneau for start and Ketchikan  at the end. Hiking level is easy.
Cancellations: A full refund (less $250 per person processing fee) will be made if your cancellation is received 90 days prior to the departure date. Late cancellation (less $500 per person processing fee) will be made ONLY if a suitable replacement is available: otherwise no refunds will be made for any reason. We strongly recommend you purchase trip cancellation insurance to protect your investment (check the Access America web site at www.accessamerica.com for one trip insurance alternative – this insurance is not expensive and can protect you from the unforeseen). Rarely is it necessary for us to cancel a trip. In the event that we are required to cancel a trip you will be notified 30 days before departure and all fees will be refunded.
We have done these Southeast Alaska trips for many years and they are always one of our yearly highlights.