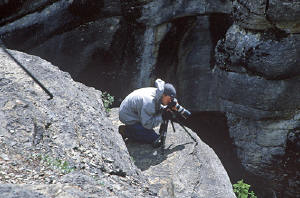 Technical Tips and Frequently Asked Questions
Technical Tips
Click on the topic below to follow the link to a discussion of the topic. Some of these pages will slow to load in order to bring you sample images that of a higher quality to illustrate the techniques.
1. Finding the Right Workshop Experience
2. Field Ethics
5. Care of Images and Packaging for Submissions
6. Multiple Exposure Tips – Part 1, The Basics
7. Multiple Exposure – Part 2, Abstracts
Frequently Asked Questions
1. Tripods and Other Types of Camera Support
2. Filter Usage
Do you have any questions? If you have questions you would like to resolve and share with others, please send them to us and we will try to help out. Time may not allow us to answer all inquiries, but we will certainly try. Those that we believe would be of benefit to a large audience will be reproduced and answered here. Please email your questions to BrockFoto@aol.com.
North America Nature Photography Association
(NANPA)
NANPA is the only association committed to serving the needs of nature photography. Their goal is to "provide education, foster professional and ethical conduct, gather and disseminate information, develop standards, and promote nature photography as an art form and a medium of communication for the sciences, nature appreciation and environmental protection." The association also provides a forum for interaction and involvement in the issues facing the nature photography industry of which you are a part. NANPA is not just an association for nature photographers; it is for all of nature photography. We whole-heartedly endorse the organization and hope you will consider joining NANPA. Please click the link (NANPA logo) below to visit their web site for further information about the association and about membership possibilities.


Photography Magazines
For more technical help or suggestions of places and ways to make images, read the following magazines and/or visit their web sites:
NATURE PHOTOGRAPHER MAGAZINE
http://www.naturephotographermag.com/
Nature's Best Magazine
http://www.naturesbestmagazine.com/
Outdoor Photographer Magazine
http://www.outdoorphotographer.com/
F/8 and Being There…
http://www.f8andbeingthere.com
Popular Photography
Click here to be able to search POP library for articles or ads
Other Hyperlinks of Interest to Photographers