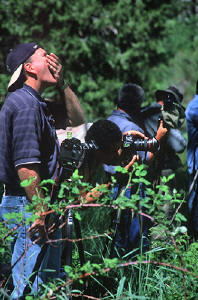 Finding the Right Workshop Experience
by Lonnie Brock
1. How do I find the workshop that is right for me?
Match the workshop to your needs:
Type of workshop – studio, portrait, landscape, wildlife, art, digital, architecture, sports, travel, in-the-field, in-the-classroom, tours (location-to-location) .
Further breakdown – lighting, action, vision, technical expertise, writing.
Size of workshop – What size is most conducive to learning for you?
Large – >35 (could be up to 200) – typically group lectures and slide presentations with little or no direct contact with the main instructor and/or little or no field work, could be several assistants in attendance .
Medium – 11 to 35 – likely group lectures, slide presentations and field work, may still be little direct contact with main instructor (depending on instructor, size of group and participant's persistence in trying to get the attention) and will likely have assistants to aid in field.
Small – 2 to 10 – still likely to have group lectures and slide presentations coupled with critiques of participants' work and field work, should be significant interaction with main instructor in all phases, may or may not utilize assistants.
Individual – probably customized to your needs with significant personal instruction, nearly constant instructor attention.
Configuration of workshop and cost – How much am I willing to do on my own and to what extent would I prefer to leave the details to someone else?
All inclusive tours and workshops – all costs, often even transportation, are included in price of attendance.
Lodging included – generally includes costs of instruction and lodging, with you paying for meals (although they are often all together) and transportation.
Instruction only – generally includes only cost of instruction, with all other costs to be paid directly by you (although lodging is generally reserved in advance and meals are often together).
2. How do I get the most from the workshop I choose?
Make sure your equipment is in good working order before going to the workshop, including carrying extra batteries and camera/lens cleaning materials at all times.
Be familiar with your equipment before the workshop starts, read and carry the instruction manual, don't buy new cameras just before the workshop (use the ones you are comfortable with). If you do buy a new camera, learn how to use it before the workshop.
Understand the physical requirements of the chosen workshop, call the instructor if necessary to clarify, choose the workshop based on your own physical abilities.
Do homework on the area and any wildlife before attending, know what to expect.
Most important of all – take an open mind and enthusiasm to the workshop, you are there to improve, try new things and avoid the "I always do it this way" approach, trust your instructor and expect to have to work hard to actually improve (it doesn't just happen).
Go to Top of Page